Tek-Dek Custom Made Panel Service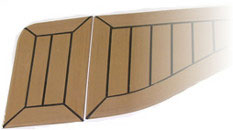 Tek-Dek International offers a custom built panel service from a warehouse in Alton, Hampshire, England. Our custom made panel service is the quick, simple and trouble free solution to a beautiful hard wearing deck.
Our custom made panels save installation time for both owners and professionals thus reducing the working time on the boat, allowing you more time on the water to enjoy your craft.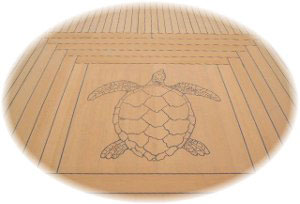 All panels are constructed using the latest hot weld technology. These panels are of exceptional quality and strength and carry a 5 year warranty against splitting, fading and surface degradation.
Using our extensive expertise in hot welding, we are able to provide numerous special profiles and add-ons to complement your deck. These can range from custom edgings, to fully encapsulating stair treads or cap rails etc. You will be amazed at what we can do!
To take advantage of this service, all you have to do is supply us with accurate drawings or paper templates of the areas to be covered. We can then give you a quote for the work and make up the decks to your own personal needs and requirements. If you don't want the hassle of templating, allow us to do that for you too - we can visit your boat anywhere in mainland U.K.
Once the panels have been carefully constructed we will either have them delivered for yourself to install, or again we can do this for you.