Tek-Dek Adhesives
Tek-Dek Bonding Adhesive is used to secure Tek-Dek to almost any surface including, wood, fibreglass, metal and concrete.
It is a single part polyurethane adhesive based on an MS-Polymer. It produces a tough flexible rubber like bond which is resistant to water, solvents and heat but allows the boat to flex naturally.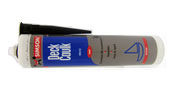 290ml Cartridge (0.48Kg)

Fits in to a standard mastic gun. Code: TD-5620 (black)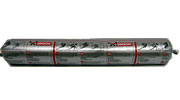 600ml Sausage (1.00Kg)

Fits in to a standard sausage gun. Code: TD-5621 (black) / TD-5624 (white)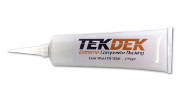 Tek-Dek Solvent Adhesive (135g)

We stock TD-5612 Cold Weld Clear and TD-5612-B Cold Weld Black.
1.2kg of adhesive will lay approximately 1m2 of Tek-Dek.
Tek-Dek Bonding Adhesive should be applied using a Tek-Dek spreader (TD-5610) to a clean, dry, dust and grease free surface and the Tek-Dek placed on top before being firmly rolled in to place using a Tek-Dek roller (TD-5627).
It will take approximately 36 hours for the adhesive to dry depending on the atmospheric conditions at the time.