If you have accidentally accessed this global website from the USA,
please be aware that all the products on this website can not be bought or imported into the USA or any of its territories.
Tek-Dek Professional
Good quality teak is now impossible to find and its increasing price means that many production boats are fitted with teak veneer on plywood backing or 6mm solid battens. TEAK WILL WEAR OUT! TEAK WILL SPLIT! TEAK WILL STAIN! Every time it is scrubbed or cleaned a bit of your precious deck goes over the side. We are now seeing numerous decks that need replacing after only five years.
Glass fibre has freed boat builders from wooden construction. Composite decking is set to change the way we finish our exterior...
Tek-Dek Professional combines hardwood fibres and thermo-polymers into a unique formula creating an extrusion that is hard, colourfast and almost indistinguishable from quality teak. The hardness and dimensional stability allows the use of routers planes etc to produce decks that can have a high level of detail and precision.
Unlike many flexible systems, the rigidity of Tek-Dek Professional also means that deck fittings can be conveniently mounted through the deck without the chance of the material crushing. This feature also helps where the sub deck is uneven and can help even out some of the rise and falls.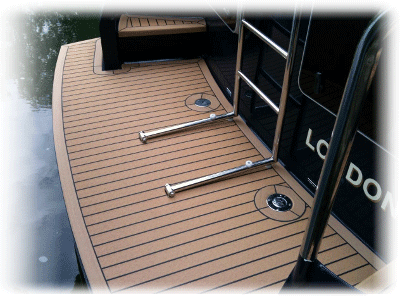 Why Tek-Dek Professional?
TEAK
Fades and turns to grey
Very sensitive to staining
Soft and easily damaged
Can split and warp
Will wear out
Expensive to maintain
Time consuming upkeep
Non-Sustainable
TEK-DEK
Fully Adhered
Resists stains*
Exceptionally hard
Dimensionally stable
Will not wear
Low maintenance
Trouble free
Recyclable
*Many stubborn and oil based stains are easily removed with our purpose designed spray on cleaner.
Tek-Dek Professional - Technical Drawings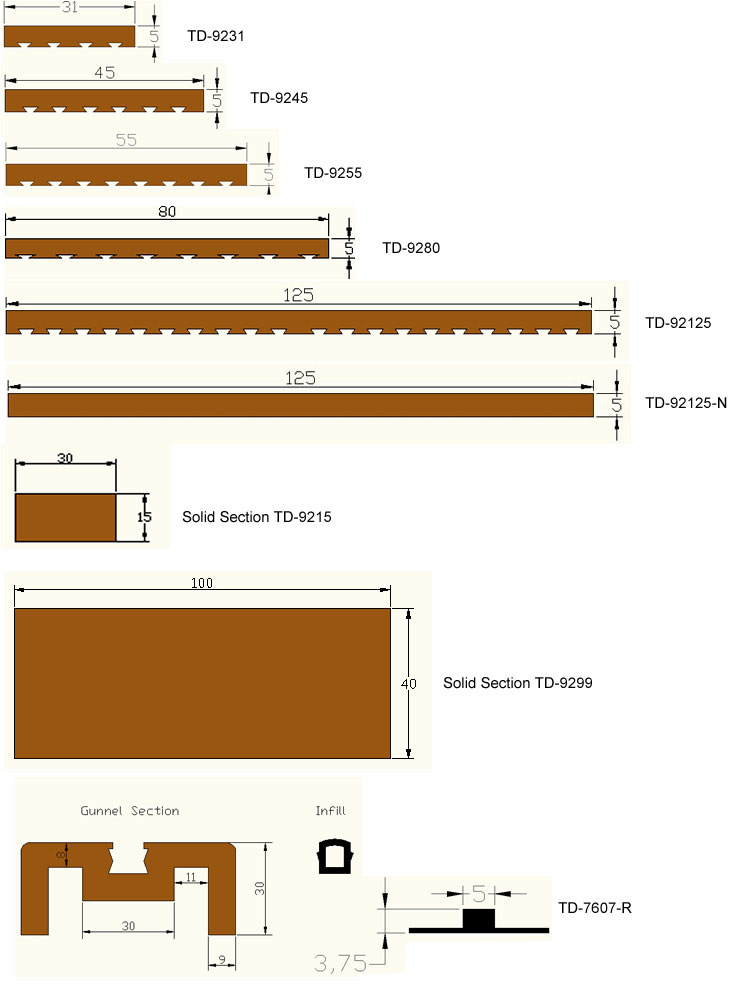 | Product Code | Description | Price |
| --- | --- | --- |
| TD-9231 | 31mm Professional Decking Strip Teak coloured. 2.25 meter length. | £15.60 |
| TD-9215 | 15mm X 30 mm Professional Solid section. Teak coloured. Per 1 Meter length. | £15.20 |
| TD-9245 | 45mm Professional Decking Strip Teak coloured. 2.25 meter length. | £18.45 |
| TD-9255 | 55mm Professional Decking Strip Teak coloured. 2.25 meter length. | £23.86 |
| TD-9280 | 80mm Professional Decking Strip Teak coloured. 2.25 meter length. | £34.02 |
| TD-9299 | 100mm X 40mm Professional Solid Section. Teak Coloured. Per linear Meter. | £119.20 |
| TD-92GUN | Professional Gunnel Section. Per Linear Meter. | £32.40 |
| TD-9606 | 125mm Professional Decking Strip Teak coloured. 2.25 meter length. | £38.88 |
| TD7607-R | 4.5mm X 4mm Rigid Top-Hat Section- Punched. 2.25 Meter. | £4.10 |
Find Out More